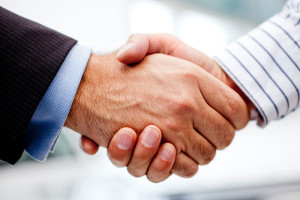 Depending on the culture, a handshake can mean different things. In the West, in Canada, it denotes favor, introduction, and respect. When you extend your hand to someone and shake theirs, you're giving them respect.
So what can a handshake say about you as a leader? In reality, it can tell a person a great deal. You'll find that there are many different types of handshakes that you come across throughout your life.
The powerful handshake. This is where, the moment you feel the person's hands wrap around yours, you cringe from the pain you're about to experience. It's firm, almost too firm, and it denotes a high rate of confidence. If it is short, succinct, and one or two pumps, it is commanding, but overcompensating. The person who relies on this handshake is trying too hard, or has a few insecurity issues they still need to work on.
The limp handshake. A person who uses their fingers or lightly shakes your hand is someone who lacks confidence. They may be shy and introverted and this could end up coming across as being disconnected or disinterested.
The firm handshake. Similar to the powerful handshake, this one is firm and not going to threaten the health of the receiver's hand. This shake should be succinct, one or two firm pumps, and then let go.
The lingering handshake. The person who holds onto the other's person's hand too long is either too insecure and needs some reassurance or is attempting to gain some perceived advantage in the new relationship.
The wave. When someone has an opportunity to shake someone's hand but instead raises their hand as a wave, they are either arrogant or excessively shy and introverted.
For leaders, especially for those who want to connect with their team members and others, having a firm handshake is important. Be firm but no too strong. Provide eye contact when you shake the person's hand. Shake hands when thanking someone for their effort. It's that personal, physical connection that can make a world of difference to the recipient and there is no real risk of being accused of harassing someone when you shake their hand.
When you begin to pay attention to handshakes, you'll notice that you can tell a lot about a person by theirs, and they can tell a lot about you from yours. Great leaders know how to shake hands and set themselves apart from those who are timid, overbearing, or just don't realize the importance of that interpersonal connection.