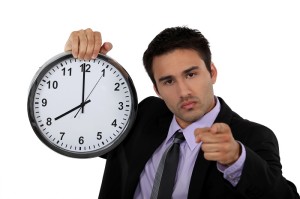 How important is being on time for you? If you're an executive, you have probably dealt with a number of issues through the years with employees showing up late, even consistently. Being late every once in a while might not be a major problem, but for people who have a tendency to show up 10, 15, or even 20 minutes late several times a week, it can cut down on productivity.
It can also impact other employees and team members. When you're looking at leadership coaching to improve your standing within your company and your abilities to lead your team, timeliness is an essential component.
When you have numerous meetings throughout the day and all week long, when you have deadlines that need to be met, timeliness is essential. It may be tempting to schedule a couple of extra meetings in the morning on Tuesday, just to get them done, but if you run behind in one meeting, you're going to be running behind in others as well.
This may "tell" people with whom you're meeting that they are not all that important to you. Whether it's an employee or another executive, a client or partner, timeliness should always be a top priority. When you end up being punctual, it will have a direct impact on how others see your leadership abilities and skills.
Here are couple suggestions to help you focus on being timely and avoid being late.
Avoid double booking. You can't be in two places at the same time, so don't even try.
Plan on arriving early. No matter what time of the day a meeting happens to be, plan to get there at least five minutes early. Even if you're running late by a couple of minutes, you'll still be on time.
Timeliness shows others around you that you respect their time and it helps to establish stronger executive characteristics and leadership qualities within you. You'll be setting an example others want to follow.