Being motivated can be tough, particularly as we approach the festive holiday season.
Motivation comes in many forms. Getting into the desired or needed physical shape (especially with all those tempting goodies at celebrations); keeping your spirits high; or making sure your work performance doesn't slip, are all common states of motivation.
Healthy Recipe of the Month:


Sweet Potato, Apple and Thai Peanut Sauce Quinoa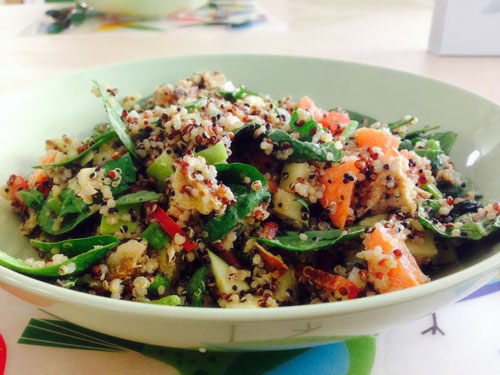 CLICK HERE FOR THE RECIPE
How can we tap into the energy of positive self-motivation when everything about you feels sluggish? Maybe all you want to do is pull the covers over your head and sleep 24 hrs a day forever in your cave! Getting yourself motivated starts with being inspired – striving to be the best you.
One of the most common mistakes people make is trying to accomplish too much at one time. You cannot maintain your flow of energy and focus if you are spreading yourself too thin. Visualizing what it would be like to be successful – the feeling it will bring you and how you will achieve it, will serve as the foundation of motivating yourself.
Try using these steps:
Set a goal and a time frame and visualize how it will feel when you accomplish this goal. Regularly visualize how you're going to accomplish your goal and keep your sights firmly set on your target.
Make a list of the reasons why you want and need to accomplish this goal.
Break the goal down into smaller, bite-size pieces. Reward yourself when you have accomplished each piece, and
Get the help you need. Asking for help or accountability from family, friends or peers can result in an extra push.
Finding your sweet spot of motivation is linked to striving towards something meaningful and important for you. Achieving a steady state of motivation is a marathon in pacing yourself and leaving that extra kick of energy as you see the finish line ahead.
Be sure to set a date in the future. Many people find it helpful to identify each step as stepping-stones on their pathway to a successful outcome. Having an end date will allow you the time you need to plan. Use these stepping-stone dates to motivate yourself, getting excited about this date and realizing a successful outcome. Be sure to celebrate with something that rewards you for achieving each stepping-stone as well as the end result.
This video adds emphasis to the importance of motivation in our personal and business lives. After watching this video, ask, "How motivated will I be over the next 2 months as we look to conclude 2014 and move into a new year of my life?"